How to find the best one from the new tanning beds for sale
Selecting the best tanning bed has been a prime concern among the tanning parlors. To find the best tanning beds, it is highly important to know about the best features to look for. Great to see is that the modern-day tanning beds have gone technologically much advanced.
To be specific, the lamps with advanced HPS technology is currently the most preferred ones. Tanning beds enriched with such high-end technology and advanced lamps of 160 watts, 180 watts, along with various 500-watt high-pressure facial lamps provide the greatest comfort and satisfaction for the users.
Features to look for new tanning beds:
It's a wrong perception that technologically enriched tanning beds as explained above often cost a lot. Rather, reaching the right platform for new tanning beds for sale, one can have these products in a much budget-friendly way. Along with supreme pressure capacity, it is suggested to go with the tanning beds with attractive features like ContourPLUS comfort acrylic, SoundAround audio unit, along MyMP3 audio device interface. Tanning beds with such advanced features provide the highest level of comfort to the users.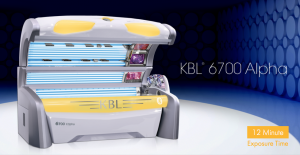 At the same time being feature enriched, modern-day tanning beds are absolutely stunning in terms of looks as well. The ones designed with polished chrome are simply captivating. The tanning beds coming with features like Ambient FlowLight along various flow sequences generate charming colour effects to meet the essence or aura of a modern day salon.
Advanced beds with lower power consumption capacity:
Days are gone when the advanced tanning beds were high energy consuming in nature. Modern-day tanning beds enriched with features like explicit IP Control provide the advanced power system, which is a highly advanced technique providing dynamic control to the electronic ballasts for higher energy efficacy.
Enriched with such advanced control units, power supply for the lamps can be thoroughly regulated, and hence their consumption. In short, the beds of such provide greater accomplishment for both the users and the salon owner as well. Interestingly, having these new tanning beds for sale from reputed online platforms, one can enjoy the advanced pre-installed upgraded features.
Among other noteworthy features of the modern-day tanning beds, the ones with four-speaker audio system provide greater support to the client's devices, letting the users generate thoroughly customized tanning soundtracks. Similarly, the MyMP3 four-speaker audio system provides greater support for client's devices, and thus more enjoyable hours for the users. In fact, pre-recorded voice prompts can also be used to help clients smoothly enjoy the sessions.